Meeting/Event Information
2017 PMICIE Professional Development Day
March 25, 2017
10:00 AM PDT to 3:00 PM PDT
Add to Calendar
Magic Lamp Inn
8189 E Foothill Blvd.
Rancho Cucamonga, CA 91730
Directions
Earn 4 PDU's while gaining valuable skills from nationally recognized industry leaders!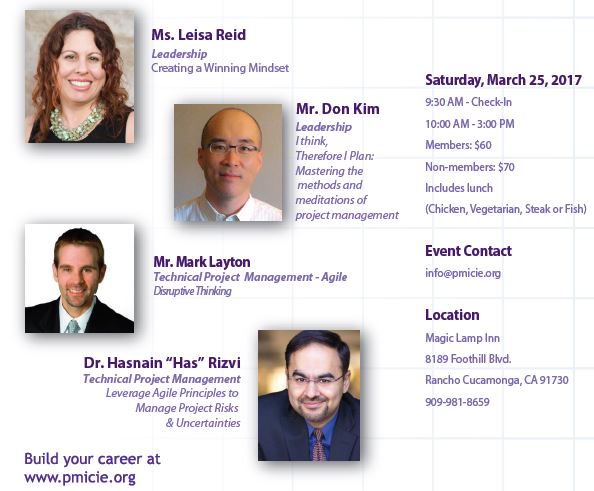 REGISTRATION FOR THE EVENT IS NOW CLOSED
PLEASE JOIN US NEXT YEAR AT PDD 2018
FREE FOR PMICIE MEMBERS!!!
Leisa Reid - Creating a Winning Mindset
Presentation Theme: Professional Growth
PDUs Awarded: 1 - Leadership
Abstract:
Leisa Reid's presentation is a blend of information with undeniable experiences. You will be invited to participate in activities where you can:
• Discover how your perceptions could be preventing you from seeing opportunities
• Take actions that would lead directly to the results you ideally want.
• Uncover your own unique thinking that is holding you back.
Come prepared to challenge how you think about things. After all, "to get what we never got, we have to think like we never thought!"
Speaker Biography
Leisa Reid is a Professional Speaker & Author who presents to 1000's of people on the topic of "Creating a Winning Mindset." After 20+ years of Management, Sales and Executive Leadership, Leisa joined Productive Learning, a personal development company specializing in helping people close the gap between what they have and what they truly desire.
In 2013, Leisa spearheaded and founded the highly successful OC Speakers Network, an organization that supports speakers who wish to share their expertise. In 2016, her book, "Manage to Success: A Guide to Cultivating Happy and Productive Employees" was published.
Leisa is a mother to Ariana and wife to Mark. She has enjoyed living in Orange County since 1991, after moving from her hometown of Fairbanks, Alaska.
In today's presentation Leisa will be giving you an experience of what a Productive Learning workshop is like - an interactive experience where you learn something about yourself, your thinking and a glimpse into what could be holding you back from the very thing you deeply want.

Don Kim - I Think, Therefore I Plan: Mastering the methods and meditations of project management
Presentation Theme: Mastery of Self
PDUs Awarded: 1 - Leadership

Abstract:
Maybe you took the PMP® or are studying for it and are still bewildered? What is this thing called project management that I have to do and WHY is it worth it? This is a philosophical question and in general, people in the field don't really answer it. Is it worthwhile to discuss the philosophy of project management? Absolutely! Then why are there so few, if any, books out there that discuss this topic in detail?
The problem is that in modern project management, the approach taken to articulating its discipline, practices and theoretical framework has been dominated from the methodological perspective. In other words, the only question really asked is the "how" (or which method to use) of project management, which has caused the field to be narrowly focused on how to use methods, processes and tools, and not enough on the deep philosophical thinking, acquisition of tacit knowledge and development of emotional intelligence (EQ) skills that are critical for successfully utilizing those methods in an efficient and effective manner.
Therefore, I will argue that you need to master not only the "how" (methods) of managing projects, but the "why" (meditations) as well. And by meditation, I'm not referring to the popular notion of sitting with legs crossed, palms turned upward, eyes closed and chanting positive thoughts, but as the Merriam-Webster dictionary defines as a means "to engage in contemplation or reflection: focus one's thoughts on something so as to understand it deeply". In other words, it's a form of conscious meditative mindfulness that will allow you to act decisively and effectively AND to understand deeply, the reasoning for that action.
Three key takeaways from the presentation:
1. Understand the reasoning for both the how and the why of adopting a project management method (applicable to any approach whether waterfall, Agile, Lean, Critical-Chain, etc.)
2. Methodological thinking vs. meditative thinking and why it is vital to develop "conscious meditative thinking" abilities
3. How mastery of these principles leads to a state of fully present mindfulness that will enable you productivity gains farther than you ever imagined in your professional and personal life.
This discussion is based on a book the speaker's book of the same title.
Speaker Biography
I was a one-time aspiring PhD student in philosophy who became disillusioned with the whole tenure process and decided to do something else. I somehow became an owner of several franchise businesses (which included an Arco AM/PM gas station, mail and shipping center, etc.) while also teaching myself to program software during my free time and selling it on the side. I found a way to leverage these skills to transition back into the workforce initially as a software developer. This included a short stint in a start-up cutting code for an artificial intelligence call center system, to working for a boutique consulting company developing web applications for Fortune 100 companies.
A major shift in my career occurred, when I discovered the field of project management that seemed to integrate and reconcile technical knowledge, emotional intelligence and business management skills into a perfect marriage. I have never looked back. Since 2007, I have been involved in the field of project management initially as corporate employee and now as an independent consultant, trainer, coach, educator and author which includes being an instructor at four universities and colleges, writer for several industry publications and event speaker.
My core competencies are to advise, educate and provide insights for your organization, department or teams to better manage people and projects, act as a catalyst for change, and to push new boundaries. In addition, my entrepreneurial pursuits have never left me, which provides me a position uniquely suited to driving and delivering business value to my clients and customers.
I am the author of "I Think, Therefore I Plan: Mastering the methods and meditations of project management", a book that makes you philosophize on the "how" (methods) AND the "why" (meditations) of managing projects in work and life... This book fulfills this need like no other in the industry!
Mark Layton - Disruptive Thinking
Presentation Theme: Agile Project Management
PDUS Awarded: 1 – Technical Project Management
Abstract:
Disruptive Thinking is survival. Our circumstances are constantly changing, and we must think and act in new ways. The dogmas of the past are often inadequate for the complexities of the present and future. In this thought-provoking session, Mark C. Layton — author of Agile Project Management for Dummies and Scrum for Dummies — will take you through the specifics of Disruptive Thinking: its history, what disruptions are occurring today, which are on the horizon, and how you can create an environment that fosters innovation and uses disruption as a tool for sustainable success.
Speaker Biography
Mark C. Layton, known globally as Mr. Agile®, is an organizational strategist and PMI certification instructor with over 20 years in the project/program management field. He is the Los Angeles chair for the Agile Leadership Network and is the founder of Platinum Edge, Inc.—an organizational improvement company that supports businesses making the Waterfall-to-Agile transition.
Prior to founding Platinum Edge in 2001, Mark developed his expertise as a consulting firm executive, program management coach, and as an in-the-trenches project leader. He also spent 11 years as a Cryptographic Specialist for the US Air Force, where he earned both Commendation and Achievement medals for his accomplishments.
Mark holds MBAs from UCLA and the National University of Singapore; a B.Sc. (summa cum laude) in Behavioral Science from University of La Verne; and an A.S. in Electronic Systems from the Air Force's Air College. He is also a Distinguished Graduate of the Air Force's Leadership School, a certified Project Management Professional (PMP), a Certified Scrum Trainer® (CST®), and a recipient of Stanford University's advanced project management certification (SCPM).
Mark is the author of both Wiley & Sons Agile Project Management for Dummies series and their Scrum for Dummies series, and is a frequent speaker on Lean, Scrum, XP, and other Agile solutions.
Hasnain Rizvi – 5Ws of Agile Principles to Manage Risks and Uncertainties
Presentation Theme: Agile and Risk Management
Presentation Topic: Agile and Risk Management
Presentation Title: 5Ws of Agile Principles to Manage Risks and Uncertainties
Abstract: Risks and uncertainties are inherent in numerous business practices, processes and decisions. Rapid growth of global markets is forcing organizations to become more proactive and responsive to risks and uncertainties. Effective project risk management is a critical success factor that can benefit from an agile approach.
This interactive presentation will illustrate how successful and effective implementation of risk management employs specific skills that can leverage agile principles from Scrum, DSDM, XP and other agile methodologies. Participants will better understand how invaluable agile practices can be in managing risks and uncertainties.
Practical insights from previous and current projects, along with RIZVI'S™ underlying competencies of project leadership and management, will be covered.
Section 2 (minimum 3-5 bullets):
• Project risk principles, concepts and definitions.
• Risks "versus" Uncertainties.
• Differences between simple, complicated and complex projects.
• Five Ws of Agile Principles to manage project risks and uncertainties.
• Lessons learned from international complex mission critical programs.
Speaker Biography
Hasnain Rizvi, PMP, CBAP, PMI-ACP, PMI-RMP, PMI-PBA, PMI-SP, CSP, CSM, CSPO, CISA, CISM, CRISC, CSSGB, CSSBB, CMBB, CPCU, CITP, FBCS, SFC, SDC, SMC, SAMC, SPOC, ESM, CDIA+, Project+, CSPM, CPMO, SIPM, OPM3 Certified Consultant, PhD
Hasnain Rizvi is a PMI OPM3® Certified Consultant with formal project, program, portfolio management and governance experience. He has performed project management maturity assessment work and managed mission critical complex projects for Global 2000 clients. Hasnain is CIO & Principal Agile Coach at GlocalPM, Inc. He is currently conducting research in agile project methodologies at SKEMA Business School in France.
Hasnain is an adjunct instructor with several universities. He is an acclaimed author, professional speaker, and judge for the annual International Business Excellence Awards in Dubai, as well as The American Society for Quality. Along with leadership mentoring and coaching, Hasnain provides certification track training.
Tickets
$0.00 Member Ticket
Documents